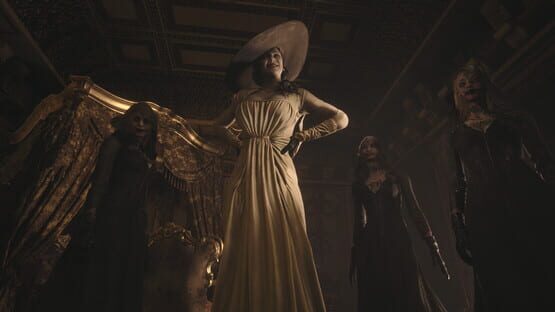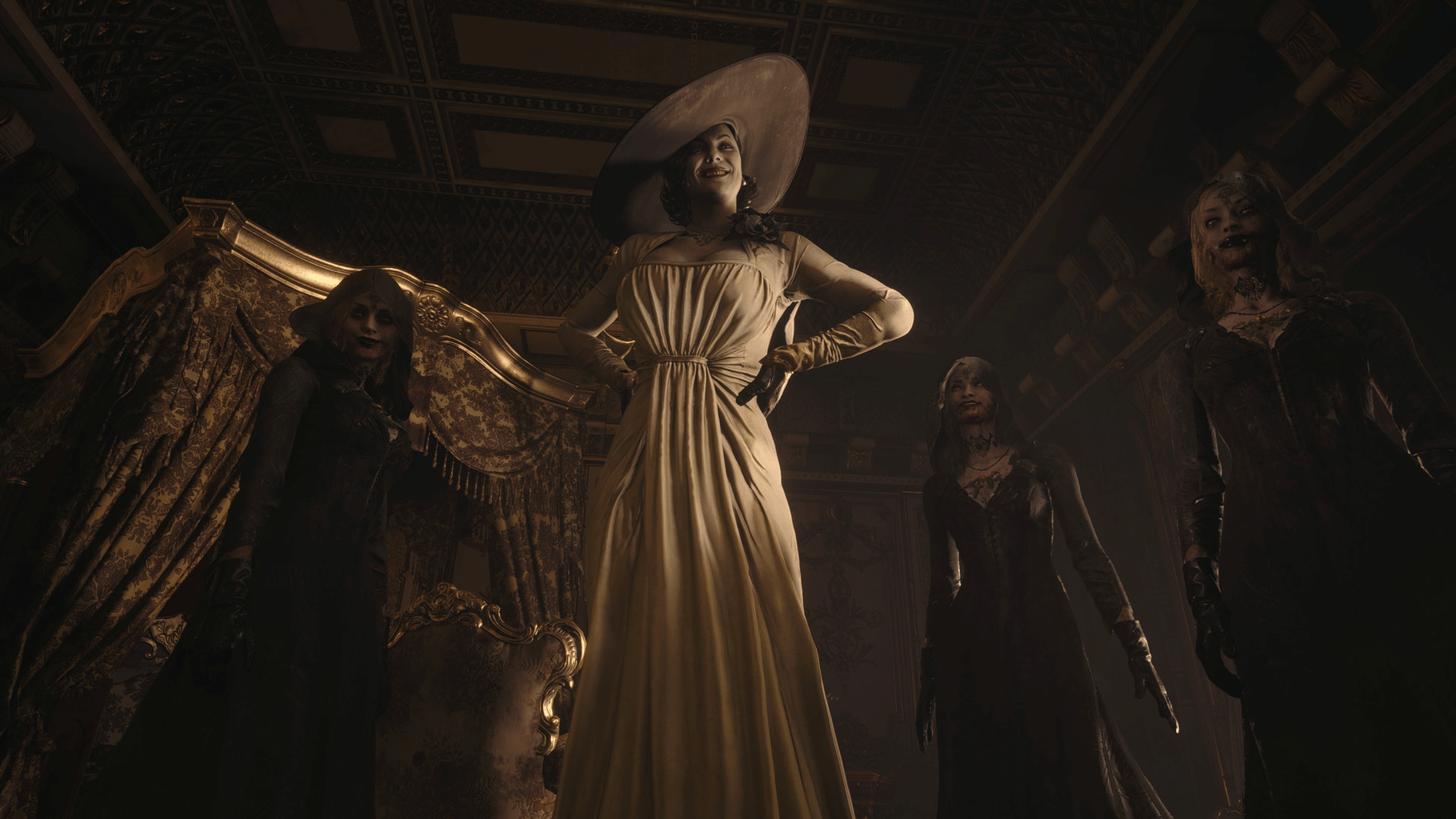 Resident Evil Village: Collector's Edition
The collector's edition comes with all the digital items from the deluxe edition, as well as the following items:
- Chris Redfield figure
- Artbook
- Poster
- Box and steelbook case
- Trauma pack (same content as in the )
This review contains spoilers
This isn't a review, it's just some extra thoughts I had after completing the game two additional times (hardcore, Village of Shadows speedrun) and doing some challenge cleanup. The review I wrote in the main category was indirect, since that was the best way I felt that I could cover the broad strokes of the game's issues without being nitpicky. However, those nitpicks have been adding up in my mind, and I wanted to lay out some spoiler-riddled criticism so I can get it off my chest. This is written for people who have beaten the game and remember all the details, it won't make sense at all otherwise. Seriously, spoilers for the entire game beyond this point, but this is all just extra thoughts anyway, and I won't be going into this with a formal thesis or tone. Let's take it easy this time around, it's the NG+ of the review, the DLC, the hidden content only a few people will find.
Resident Evil 8's story priorities completely confuse me. The best way to symbolize it is with the mystery of Ethan's face, which is never shown directly. Even if you buy the figure of him in the model viewer, you can't see his face. In Resident Evil 7, keeping it hidden made sense, he was just a blank slate protagonist, so minimizing extraneous details was a logical move. However, in RE8, we're supposed to like Ethan, we're supposed to resonate with his story and connect with him. The thrust of the plot is in recovering his child, who the audience only cares about as a function of how much they care about Ethan. However, his real character is as obscure as his face. If you were asked to describe the character of Ethan Winters, what would you say? He's a determined father, he occasionally quips with some dad humor… but what else? He's a little paranoid after what happened to him back in Louisiana, but that has no bearing on the plot and doesn't come up again after the first ten minutes. On one hand, the developers are trying to keep him a blank slate by not giving him a lot of backstory, avoiding any personal development, and not showing his face, but they're also hanging the plot entirely on how much we care about the guy. The finale of the game in particular is supposed to be an emotional moment surrounding his personal sacrifice, but when you look past the violins and the high drama, there isn't actually much reason to care. I still don't know Ethan Winters. I still don't even know Mia Winters, the majority of the time she's been on-screen has been either trying to kill Ethan or arguing with him. The drama is so disconnected from the characters' actual development that I'm curious about how the story evolved over the course of the production, and I wouldn't be surprised if it was originally just as emotionally blank as RE7 was.
...While I say that though, you can tell that the scene with Chris bursting in and taking Rose was a major point of pride. It was the hook for the trailers, and the biggest mystery that looms over you as you play the game. However, this character drama is just as false as that which surrounds Ethan himself. When you play as Chris, his squad straight up says that there was no reason not to tell Ethan what was going on. Chris has no reply, and I'm left here wondering what he was thinking. Shooting Mia/Miranda without warning makes sense so as not to jeopardize the ambush, but beating Ethan into unconsciousness, not telling him anything, then throwing him in the back of the same van that contains the body of a BOW that's mimicking his wife and the child that same BOW was attempting to kidnap makes absolutely none. Then, when presented with other opportunities to tell Ethan, he just… doesn't. You can even pull the root up farther than that, and ask why the Winters family was moved so close to the source of the mold in the first place. Ethan says Chris moved them there, so were they bait? Files seem to suggest that Chris' team wasn't certain of the exact connection between the Louisiana mold and the village mold until the events of the game itself, but they obviously knew about Miranda as a mold-powered bioweapon before the events of the story, being able to pick up on the exchange of the real Mia even after she was replicated down to the DNA. It feels like the impact and cinematography of this shot was decided long before the actual justifications for it, and even after playing the game through three times, I'm still fairly uncertain of the ways it fits together into the rest of the plot.
Naturally, the subsequent plot also kinda confuses me. Miranda splits Rose into four pieces, and gives them to each of her lords. The in-game justification seems to be that she wanted to spur Ethan into eliminating her imperfect vessels, but… why? Dimitrescu just wants to be Miranda's favorite, Moreau acts the same way, Beneviento mostly seems reclusive and gives no indication of rebellion, and Heisenberg is the only odd man out. Is there a reason Miranda couldn't have just immediately started the ritual after kidnapping Rose? The best explanation the files seem to contain is a few lines regarding how she needed to verify compatibility, but that was determined at the same time Rose was put into the flasks to begin with. I suppose this is the only theory that could explain why she didn't kill Ethan along with the other guards she murdered in the van, but again, we're never really given a reason why she wants this done. Even if she did, the question then is why she wouldn't try to get Chris to do it instead, given how he's the one who was savvy enough to "kill" her in the first place. Again, it's a situation where it feels like the events of the plot were decided with a focus on the big cinematic moments, how it would all be justified came way later.
If you've made it this far down, the question by now might be why I even care when RE plots are always a bit silly. It's because they were always just A to B, very simple. A special forces team is trapped in a mansion filled with, and surrounded by, zombies. A cop and a biker are stuck in a city surrounded by zombies. A special forces agent is being tracked down by a big zombie in a city full of zombies, etc. In RE8, we have a presentation that relies on the characters to drive the plot, but the characters are weak and the plot is either extremely poorly explained or totally nonsensical. RE4 was able to justify a dumb story about a captured daughter through campiness and great action mechanics, but RE8 is comparatively straight-faced and has shallower gameplay. I also really don't like how it copied RE4's intro sequence, since it's possibly the hardest moment in the entire game and misleads players into how they should be using their supplies. So much of the game just seems poorly thought out, shallow, or nonsensical, that all I think is going to stick with me is the beautiful aesthetic. I'm sorta nervous about how they're going to follow it up with that cliffhanger that seems to indicate we'll play as Rose in the next game, when the character drama here fell so flat. Guess we'll see then.
And that's it. Complaints off my chest. If anyone read this, thank you, it was self-indulgent but I really care about this series more than any other. At least, any other series that's still running. RIP Castlevania. Oh, and if you have answers to some of my questions in that rant, post them below. I have read all the files though so I'm fairly certain that most of the explanations people cite are complete conjecture, but I've been wrong before.
---
As the sole person on this site with enough income to purchase the Collector's Edition, here's my review of it.
The Chris figure is actually really nice. Has a real weight to it, definitely heavier and more detailed than either the Jill or Leon figures Capcom has produced before. Though the figure does lowkey spoil the game in a way I won't state.
The artbook is standard fare, I found the digital concept art the game comes with to be far more interesting in all honesty. I would talk about the physical map, but I am afraid to open it since it is a fabric map of some kind in a plastic package. I'd prefer to maintain its value.
The steelbook is cool. Kind of wish RE:2 came with its steelbook case, but I guess Capcom will be inconsistent asshats about this.
That's all, good luck finding this on eBay!
---